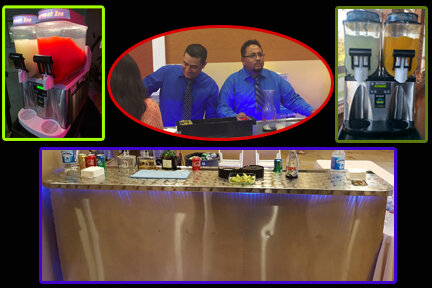 Package #4 Two Bartender, Two Double Bowl Margarita Machine & One Portable Bar
Outlets: Need a dedicated 15 or 20 amp 120 v circuit





| | |
| --- | --- |
| Base Price up to 6 hours of fun! | $1,050.00 |
| Available Booking Options | |
| Overnight | $1,075.00 |
| Best Deal! 2 Days | $1,680.00 |

*Holiday prices will increase 25% due to high demand and labor cost of our employees.
*Multi-day Rentals are 60% extra per day
*Overnight Pickups will increase $25 start at 11pm
*Last Minute Booking Fee $60 We consider last minute orders to be a day before your event




Package #4 Comes With:
2 BUNN Double Bowl Margarita Machine: 1 day rentals (This machine is to be used only indoors)

2 Bartender, TABC Certified (2 to 6 hours service)

6 Free Concentrate Mix 1/4 gallon any flavor, Each concentrate yields 2 ½ Gallons; 15 Gallons total! (270 Drinks 7oz)

200 plastic cups (7oz),

200 cocktail straws

200 cocktail napkins,

1 Rolling Cart
(Additional 1/4 Gallon Mix are $12.49 + Tax) These Mixes are 7 to 1 which means that they will make 2 ½ gallons per 1/4 Gallon bottle of mix.
50 Drinks of 6oz per Mix

45 Drinks of 7oz per Mix

35 Drinks of 9oz per Mix

32 Drinks of 10oz per Mix
What We Recommend For Your Event
0-50 Guests 1Machine 2 to 3 Mixes

50-100 Guests 1 Machine 2 to 4 Mixes

100-150 Guests 1 Machines 3 to 4 Mixes

150-200 Guests 1 Machine 4 to 5 Mixes

200-300 Guests 2 Machine 6 to 8 Mixes
⚠️ Start the margarita machine very early. Do not wait right before your event. Start up and mix the product to become familiar with the machine.-NEVER NEVER transport a machine on the side or back, it must be upright at all times!! We would hate for you to purchase us a new machine!!
✅ Double Bowl Margarita machine has an average freezing time of 1Hr to 1½Hr., Before your party, refrigerate the materials (water, alcohol, mix). This will ensure a FASTER freeze time.
⚠️ Use the machine in an air-conditioned room. If you put the machine outside in the sun, it will dramatically increase the freeze time. Bring out the chilled drinks in pitchers. (Double Bowl margarita machine is to be used only indoors)
⚠️ Do not use extension cords. If you must, use 25 ft heavy duty 10 or 12 GAUGE EXTENSION CORD. Long or light duty cords will not work. Try to plug machine directly into a 20 amp dedicated circuit without an extension cord if possible. Damage can occur to the machine if any other extension cords are used.
⚠️ When we deliver the rental machines, Our employees cannot climb a flight of stairs with more than 2 steps. There must be an elevator, or a ramp to access the venue/home/office, since the machines are too heavy.
Our drivers cannot transport the machine over loose soil, gravel, or dense grass; this is mainly due to the fact that the rolling cart wheels get stuck or sink in., PLEASE NOTE: if you have any of the situations above please call the office to make adjustments on your delivery and fees- We may have to send 2 or more employees to help the driver
F.A.Q.S
Q. Do I need ice?
A. No. The machine produces the proper slush consistency if you follow the products instructions on the label.
Q. What type of table do I need for the machine?
A. Our machines will delivery in rolling car and we leave with the machine, you don't need to worry about it. We recommend that you NEVER try to transfer it to a table or other furniture to avoid personal injury or damage.
Q. Do I need to clean the machine?
A. We recommend that you put just water in the machine and rinse out.
Q. Do you supply the alcohol?
A. Sorry... we do not.
Q. Can we use our own mix when renting the machines?
A. No. We require that you use our mix in the machines. Our mixes are specifically made for our drink machines. Other mixes can damage the machines which you would be responsible for.
Q. How long does the mix take to freeze?
A. We recommend you refrigerate your mix, water and alcohol before using. That greatly increases speed. The Teylor only take about 15 to 20 minutes. The BUNN Double Bowl takes about 1 to 1.5 hours in an air conditioned room. If you use outside we recommend the Frosty Factory's. It is always best to use indoors and take pitchers of product outside for best results. If you use Alcohol that slows the freeze time also.
Q. My power goes out and continues to while the machine is plugged in... why?
A. Our machines will need a dedicated 20 amp 120 v circuit. Nothing should be plugged into the same outlet or the same circuit if multiple outlets on same circuit. GFI circuits may cause a power shortage and the machine may need to be moved.
Q. Can I use a generator for the machine?
A. No. Generators spike up and down and may ruin the machine.
Q. Can we use an extension cord?A. Not recommended. If the cord is long and light duty it will not work. We suggest you plug machine directly into an outlet. If you use long light duty cords there may be a drop in voltage which prevents machine from working. If you have to use an extension cord use a short Heavy Duty Extension Cord - 10 Gauge, 20 Amp.