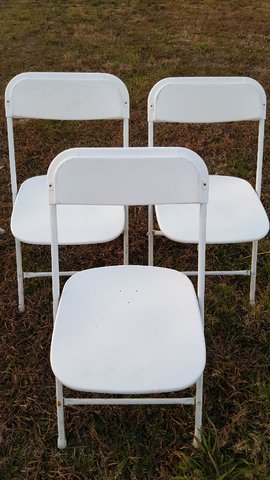 Folding Chairs




| | |
| --- | --- |
| Base Price up to 6 hours of fun! | $1.65 |
| Available Booking Options | |
| Overnight | $26.65 |
| Best Deal! 2 Days | $2.64 |

*Holiday prices will increase 25% due to high demand and labor cost of our employees.
*Multi-day Rentals are 60% extra per day
*Overnight Pickups will increase $25 start at 11pm
*Last Minute Booking Fee $60 We consider last minute orders to be a day before your event




DELIVERY: All deliveries will be deliver in a 5 hour window frame before the time you select/scheduled for us to deliver. Please make sure that you or someone else is available to recieve and verify your order. We recommend you schedule youre delivery 1 hours before you originally want it to arrive at incase our drivers run into an inconvenience. When we deliver. We will send a text message once we our on our way with an approximate arrival time.
PICK-UP: Please allow up to 3 hours for our pick up time. Please understand we have multiple customers to cater, and we can only give a good 3-hr. window for pickup times, specially during the weekends.We will send a text message once we our on our way with an approximate arrival time.
PLEASE NOTE: We sometimes have to arrive the day before and we pick up one day after your event to get all of the Rental Items out on time but we do not charge for the extra time (Please let us know if you agree with this option)
Frequently Asked Questions (FAQ)
Q. DOES PARTY PLANET SET UP UPON DELIVERY?
A. • We do not charge installation fees for tents, moonwalk, waterslide, pipe and drape, and lighting. But there is an additional fee for setup and breakdown of chairs, tables, linens and others items. Customer must request a setup/breakdown to the office staff in advance, so we assure quote/order reflect associated costs.
Q. WHAT IS CONSIDERED "DIFFICULT ACCESS" AND ARE THERE ADDITIONAL COSTS?
A. Difficult access means that the accessibility of venue/designated drop off spot is difficult. Whether it be due to stairs, elevators, distances of long carry (carrying over 15 feet from the truck), or because the ground has gravel and we cannot use dollies to transport the rentals, there are additional costs. The exact cost is determined by the order load and anticipated additional labor involved.
Q. DOES PARTY PLANET TAKE DOWN UPON PICK-UP?
A. We do not, It is the client's responsibility to take down and stow the chairs, tables, linens, crockery and silverware rented when the event ends as they were delivered. Failure to do it, will result in additional fees
Q: Does the price include delivery?
A: No, all delivery fees depend the location of the event
Q: What about parks? Do you rent for parks?
A: Unfortunately we don't do rent for park use. The reason is because parks require a specific time for drop off and pick up, and again, for all of our deliveries and pick up we have a 5 hour window frame.
Q: What payments do you take?
A: Cash or Credit Cards. If paying by cash, please have exact change as our drivers do not carry cash.
Q: What if we need to cancel?
A: Notify us by calling our office at least 14 days prior to the day of the event. Timely cancellations will result in loss of 35% down payment. Untimely cancellations shall result in loss of 35% down payment, remaining balance shall be immediately due in full, this will be charged on the credit card on file, and costumer will be responsible for all fees and changes incurred by Rental Center as a result of cancellation.
Q: Do you require a deposit/down payment?
A: Yes, all orders require a 35% deposit/down payment with a Credit Card.
Q: Is Deposit/Down payment Refundable?
A: They are not refundable, but if you cancel your order at least 14 hrs prior to your rental date, you will be given a raincheck that is good for 1 full year from Event Date.
Q: Can we are see a copy of your contract and safety rules?
A: Yes. you are able to go over and read the terms and conditions before finalizing your order.
You will also have the opportunity to accept or decline these terms and conditions before you process your order.
Once you sign the contract and finalize your order; you will receive a link with a copy of your signed contract via email.